JACUZZI YJ ENERGIZER KIT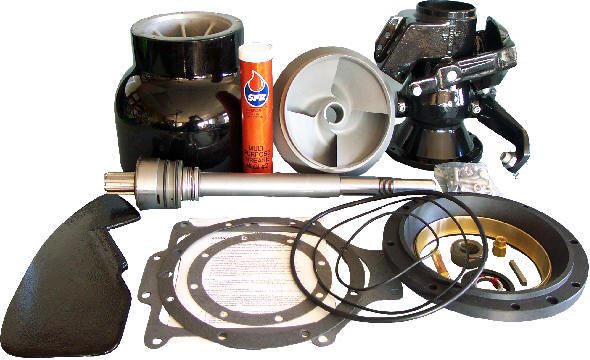 DIAGRAM OF JACUZZI YJ KIT
ADVANTAGES TO CONVERTING YOUR JACUZZI 12YJ WITH AN AMERICAN
TURBINE JACUZZI YJ ENERGIZER KIT
American Turbine manufactures a kit that converts a Jacuzzi 12YJ or Golden Eagle axial flow (low pressure) pump to a much more efficient MIXED FLOW (high pressure) pump. The ENERGIZER KIT will yield the same speed or better at a LOWER RPM. Four original Jacuzzi parts are retained: bearing cap, suction housing, inspection cover, and the transom housing.

On average there is a 20 percent increase in performance with the Energizer Kit over the original 12YJ pump.

Parts for the Energizer Kit are much cheaper than original Jacuzzi 12YJ parts.

There are many after market parts available for the Energizer Kit that are not produced for the original Jacuzzi.
ADD ON OPTIONS

IM1000
Inducer Impeller
IMA**S
Stainless Steel Impeller
R6301
Hi-Flow Droop Snoot
BNA1407
Best Steering
RA8507
Turbine Trim Hydraulic